Blog
New dashboard updates: content type model improvements, global nav updates, and more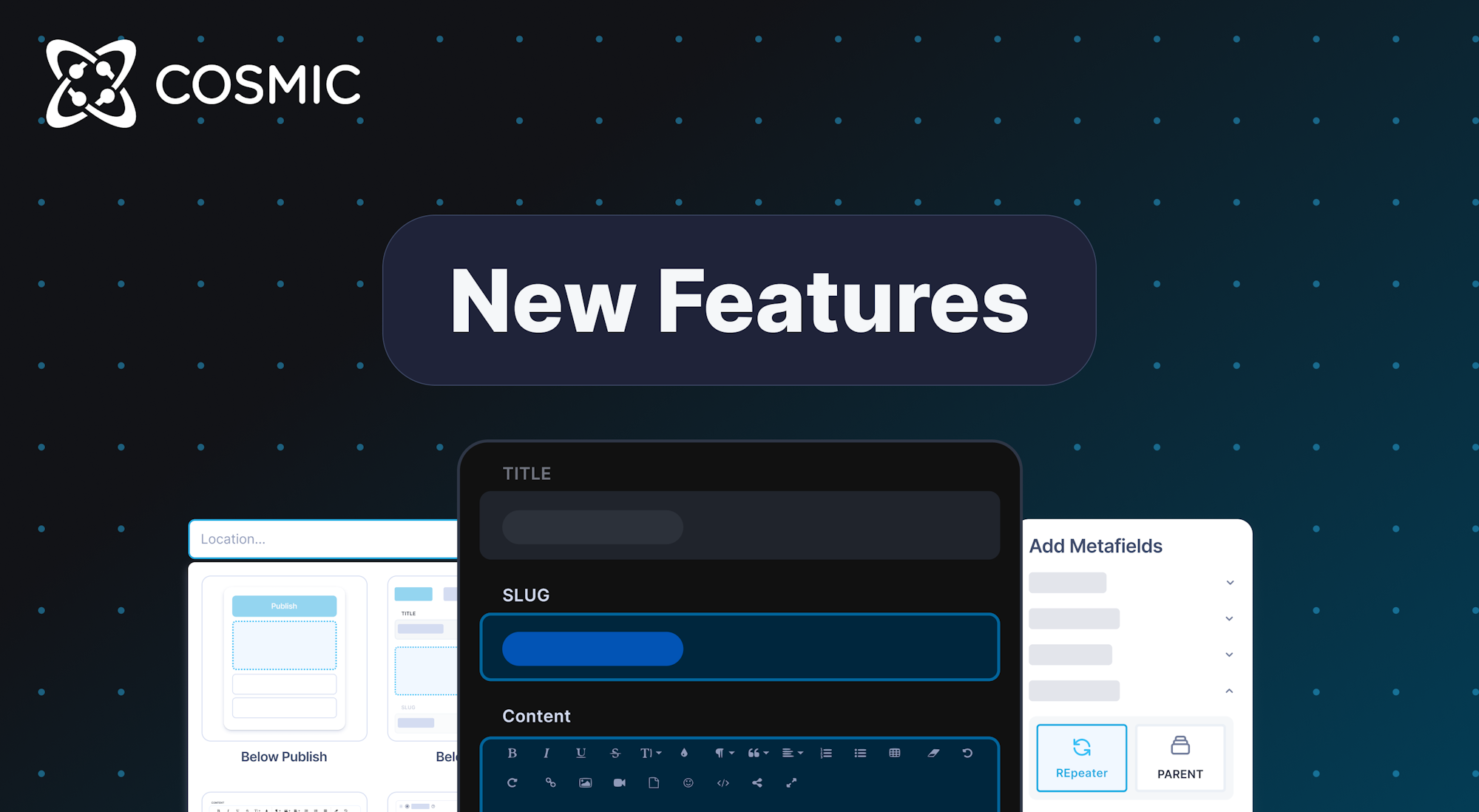 We're excited to share a big release for the new dashboard. Read below and sign up to get on the waitlist to preview the new dashboard.
🛠️ Content type updates
Content modeling is at the heart of the Cosmic content management experience. And with this latest release, content modeling got even better. Now whenever you update your content model in your content type settings, ALL of the existing Objects in the type will be updated.
Prior to this update, updating the model on all of your existing Objects was manual and cumbersome, now it's automatic! We think you'll enjoy this improvement when working with ongoing updates to your content model.

🧭 Global nav updates
The navigation has been dramatically improved with this release. You'll notice that everything is centered and easy to get to. This is a small update that makes a big difference to improve your navigation efficiency.
🤝 Roles and permissions
We've made a big update to how roles and permissions are done. You can now set roles at the Project level (If you have a Workspace, it's done at the Workspace level). This will enable teams to more efficiently add team members for collaboration.


🖥️ Try it out
Note: If you have already been testing the new dashboard in the private alpha release, and had previously added content, you will notice that your content has been removed. This is because we made lots of content model updates. You can still log in with your alpha testing account.
We are on a mission to build the best content management solution in the world and there's more work to do! If you haven't joined, sign up to get on the waitlist to try it out during this alpha development phase, and help us by providing your feedback.
A lot of folks have asked us when this will be ready for wider release and the answer is VERY SOON. We're excited to be closing in on the beta release. Follow us on Twitter, subscribe on YouTube, and join our team on Slack to stay in touch with the latest Cosmic news and feature updates.

Sincerely,
Cosmic Team