Blog
New Dashboard Alpha Release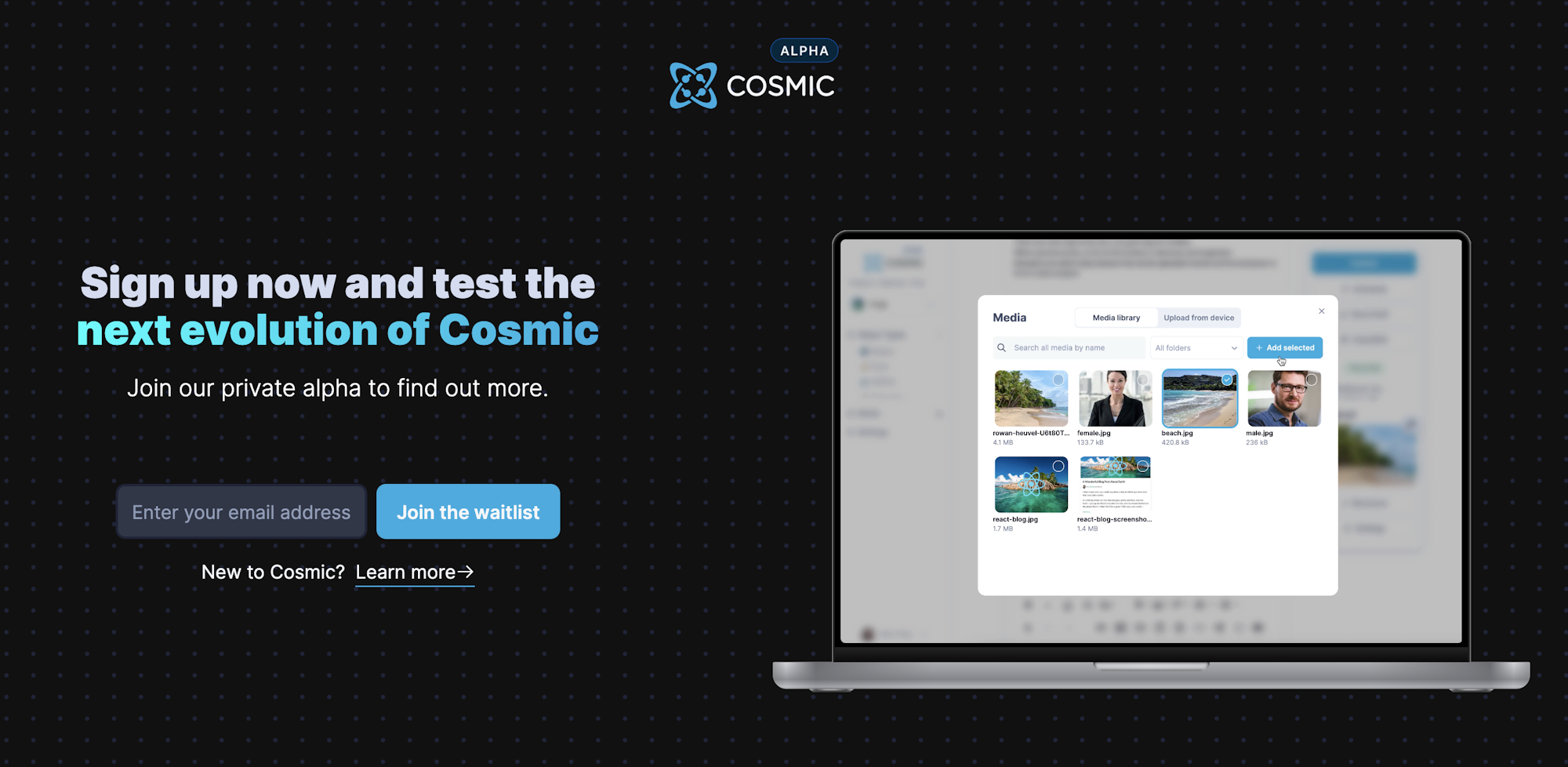 After months of painstaking design, development, and testing, we are excited to announce the release of the new Cosmic Dashboard! We have rebuilt the dashboard from the ground up and you can now be one of the first to test it in a private alpha release. See the preview below.


The new Cosmic Dashboard 😍
To get started, go to the Cosmic Dashboard Alpha Landing Page and add your email to join the waiting list. After joining, you can then share your special referral link with friends and colleagues to get bumped up the list!
Once we let you in, there are some important things to keep in mind...
The new dashboard is connected to a staging database
You will be able to create new accounts and test the dashboard functionality, but you should not use this for any production website or apps. Though the data may be removed at any time, we will be sure to let you know if / when this happens so it's not a surprise.
Some features are not available yet
We will be keeping a list in a Notion document for you to learn about available features, limitations, and progress on the latest additions.
You can import your Buckets from the old dashboard into the new one
To make testing your current workflows straightforward, we have enabled the Import feature in the Bucket settings area. This way you can test your current Bucket use cases and provide us feedback on how it's working for you so we can make sure it's going to be a smooth transition!
We are excited to share with you the next evolution of Cosmic. The dashboard reflects the hard work and detail we put into making Cosmic the best content management solution in the world. We are grateful for your support, patience, and feedback as we continue to provide you with the best tools to collaborate around your content.
The next step is to sign up on the Cosmic Dashboard Alpha Landing Page. After that, we will let you know when you're ready to get in. If you have any questions, please reach out to us on Twitter and join our community on Slack.
Thank you,
The Cosmic Team