Blog
New Dashboard Updates: Global Nav, Projects, Billing, and more!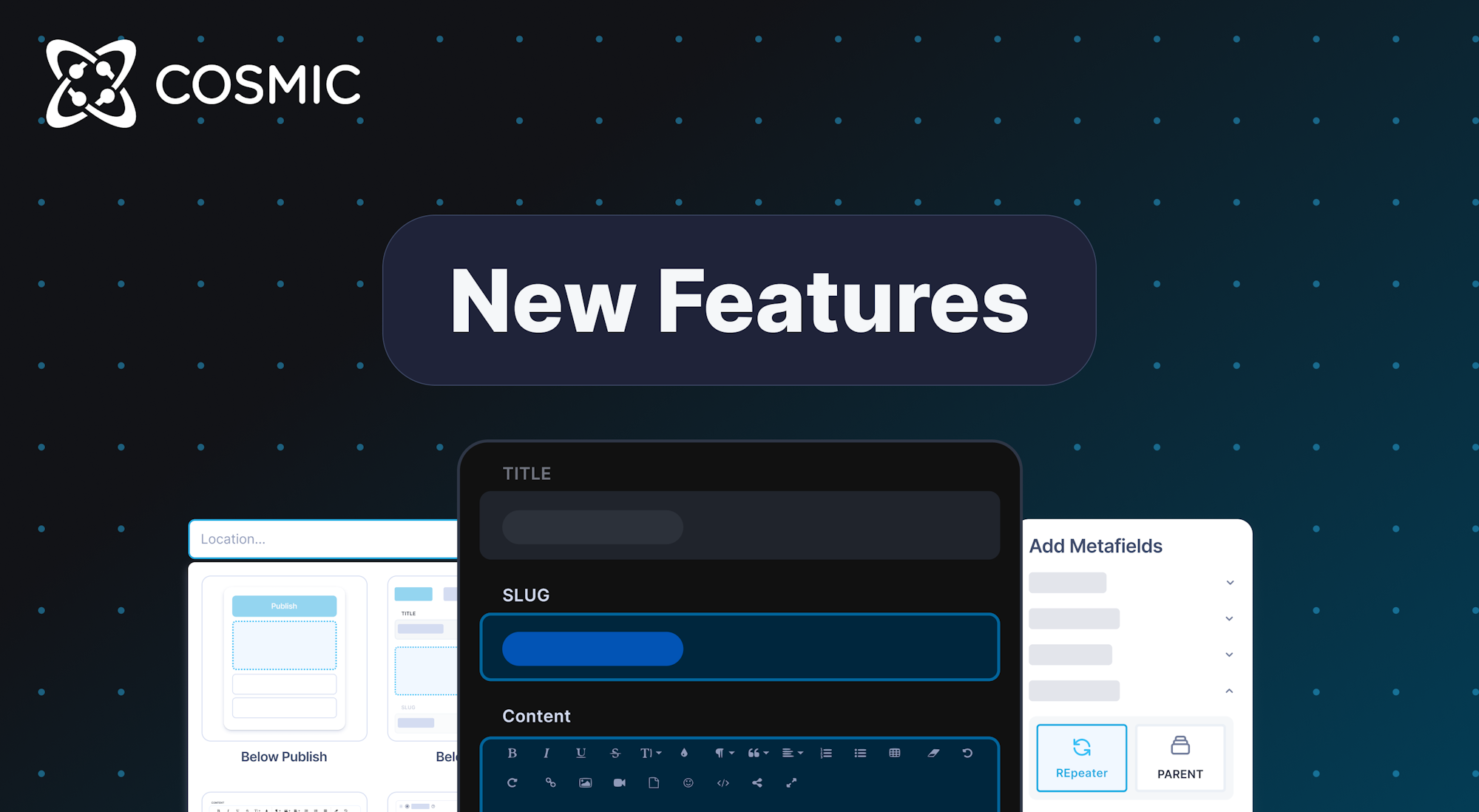 We are excited to announce big updates to the new Cosmic dashboard which are now available for testing. Sign up for the alpha preview to check out the new features and read about the updates below:
Improvements
1. Global navigation layout
The global navigation has been moved to the top bar along with the search feature. This provides for easier access to core features and opens up the information architecture.
2. Updated Bucket organization
Buckets organization has gone through an overhaul. We now include a secondary menu to make it possible to add lots of content types as well as media folders. Media folders now include emoji and edit capabilities.
3. Updated Projects
One of the biggest changes in this release is the expansion of the Project as a higher level component in our service. Projects now include:
Team members with main roles and granular Bucket permissions.
Billing plans. Payment management service available (Stripe test mode).
4. User billing
You can now add a payment method (Stripe test mode) to your user account which can be used on any billable resource. Invoices are also available for testing.
5. Extensions
Extensions have been improved with simpler organization and display editing.
Breaking Changes
There is new logic for Project / Bucket roles and permissions. So any previously added test projects will need to be re-added. You can still import any Bucket from the old dashboard into the new dashboard by going to Bucket Settings > Import / Export.
Join the Alpha
We are proud of the progress so far and excited for you to test out these new features as we continue to build the best content management solution in the world!
If you haven't joined, sign up to get on the waitlist to preview the new dashboard including these new features.
Get Some Swag

😎
After joining the waitlist, share your personal link (found in the confirmation email) on social media to be entered to receive free Cosmic swag including hoodies, tshirts, coffee mugs, and stickers.
Stay tuned for more exciting updates! Follow us on Twitter, and join our team on Slack to get the latest on the new dashboard progress.
Cosmic Team
Back to blog