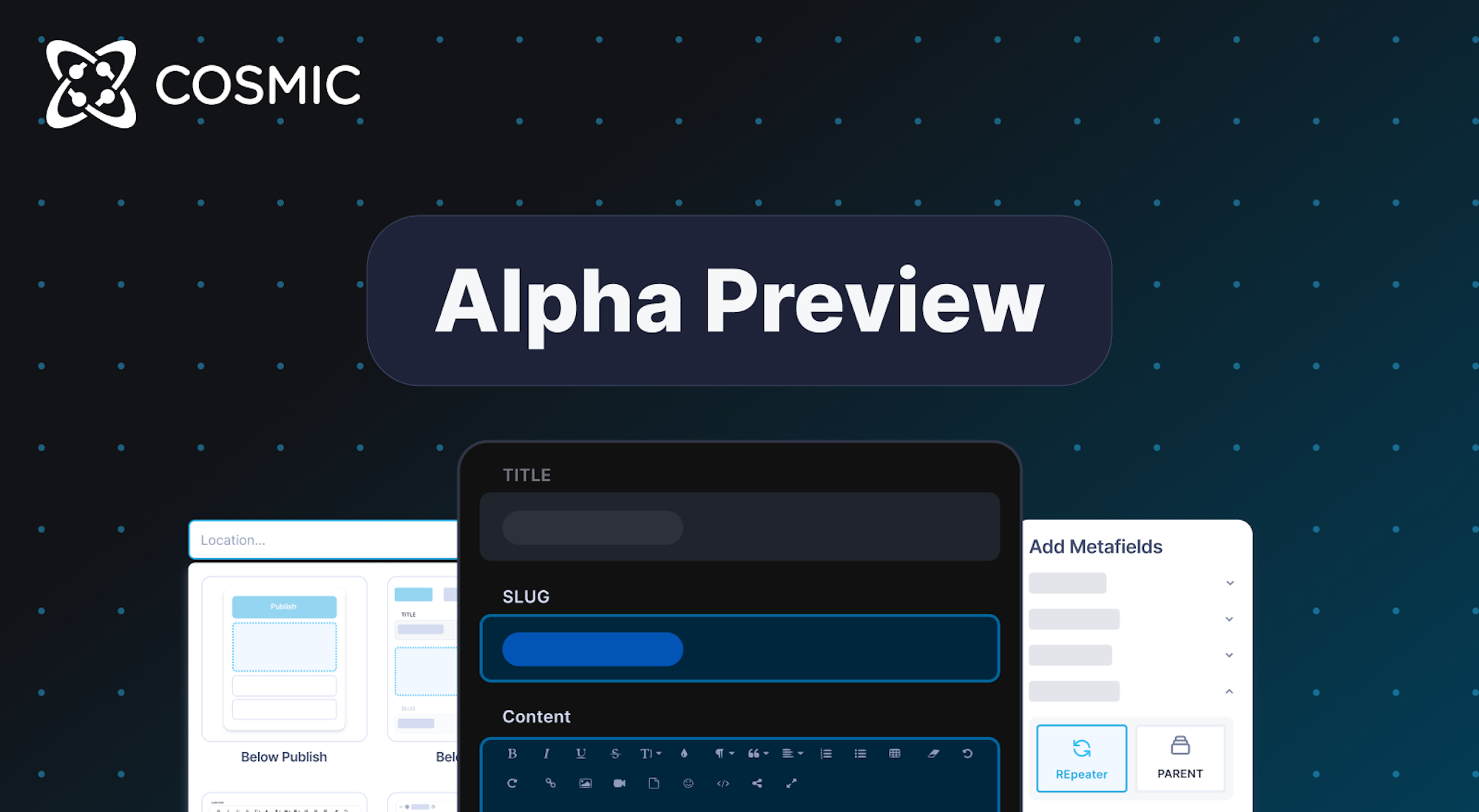 We have some exciting updates to share with you on the new Cosmic dashboard: global search and Object table filtering is now available!
TL;DR
Sign up for the alpha preview to check out the new features.
Global Search
You can now press CMD+K on any page (or click the link in the left hand sidebar for you mouse-click maximalists) and pull up a handy command pallet to search by Object, Object Type, or Media, as well as find quick links to helpful resources.

Objects Table Filtering
One of features that sets Cosmic apart from other content solutions is our programmatic querying. Along with being very powerful in the API, this querying approach also comes in handy when you want to do content filtering and organization in the dashboard (especially when saving smart views).
We're happy to say that you can now use queries to do Object filtering from the table view with even more capabilities!
How it works: click the filter button in the Objects table view and use the UI form builder to build your filtering logic. Filter by value matches, negative operators as well as use powerful numeric operators like greater than, less than, and more. And you can even build your own code queries using the available "Raw" tab!
Check out the docs for more information on how to do Cosmic Object querying and follow these examples:
Filter by specific Object Relationship like author or category (showing Single Object Metafield below)

Filter by string search in Object content (showing contains below)

Filter by tags (showing checkbox Metafield below)

Filter by tags and numeric operators (showing less than or equal to below)
Developer Tools Query Examples
After setting your query in the table filter, you can grab the query from the Developer Tools drawer and plug it into your application (showing filtering Objects by Multiple Object Metafield below)
Join the Alpha
We are on a mission to build the best content management solution in the world. We are excited to offer you these new features during our alpha release of the new dashboard. If you haven't joined, sign up to get on the waitlist to preview the new dashboard including these new features. It is our hope that we can enable your team with even greater flexibility and control over your Cosmic-powered content and hopefully get some feedback from you!
Get Some Swag

😎
After joining the waitlist, share your personal link in the confirmation email on social media to be entered to receive free Cosmic swag including hoodies, tshirts, coffee mugs, and stickers (makes great Valentine's gifts for friends and significant others!).
Stay tuned for more exciting updates! Follow us on Twitter, and join our team on Slack to get the latest on the new dashboard progress.
The Cosmic Team